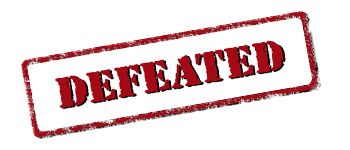 Ratification of the University Bible Fellowship (UBF) student group — FAILED
After their student group status was previously denied due to issues with funding and similarities with existing Christian groups on Ryerson campus, the UBF lost its appeal and will not be an official student group.
Some board members are arguing against the group, as they believe there are groups similar already, & this would be "double-funding."
Source: https://theeyeopener.com/2017/07/tension-among-the-board-continues-at-rsu-meeting/
Here is another document that confirms that Ryerson UBF is banned from Ryerson University: http://www.rsuonline.ca/uploads/Image/BOD_Agenda_-_2017_07_19.pdf
In addition to being banned from Ryerson University the Ryerson UBF chapter has faced a "crisis"
"The Ryerson ministry has many ups and downs for the last 13 years. God sent us his flock from the beginning. With the great hope of raising them as disciples of Christ, we served them. Among them, Theo was growing as a disciple candidate. But he left our ministry following his girl friend. For the time being, we were discouraged at the poor situation of our ministry. Soon God sent more disciples candidates including Carlos, Charbel and his wife Maya. It was like the season of Christ coming to our ministry. But they left our ministry one by one. Carlos left due to his relationship with his girl friend. Charbel left our ministry due to his wife's lack of spiritual desire. So far, the disciple candidates who left our ministry seemed to have a common problem that is either girl friend or wife." Source: http://history.ubfservice.com/chapter/canada/ryerson/ryerson_2014.htm
The "common problem" that the UBF chapter official stated is fundamentally just UBF's opinion. UBF's thinking is very limited to their environment. There is more to the story than meets the eye. Something that the chapter director and the seniors are not telling you.
The chapter director of Ryerson UBF is Charles Kim, the husband of Anna Kim.
Ryerson UBF has had two websites:
https://web.archive.org/web/20130614125018/http://ryersonubf.org/
Ryerson UBF has changed their location at least once: http://anamubf.org/technote7/board.php?board=anamboard&page=6&sort=hit&command=body&no=755
In addition to Ryerson University, Ryerson UBF chapter unfortunately occupies three other college campuses:
University of Toronto at Mississauga (UTM)
George Brown College
Ontario College of Arts and Design (OCAD)